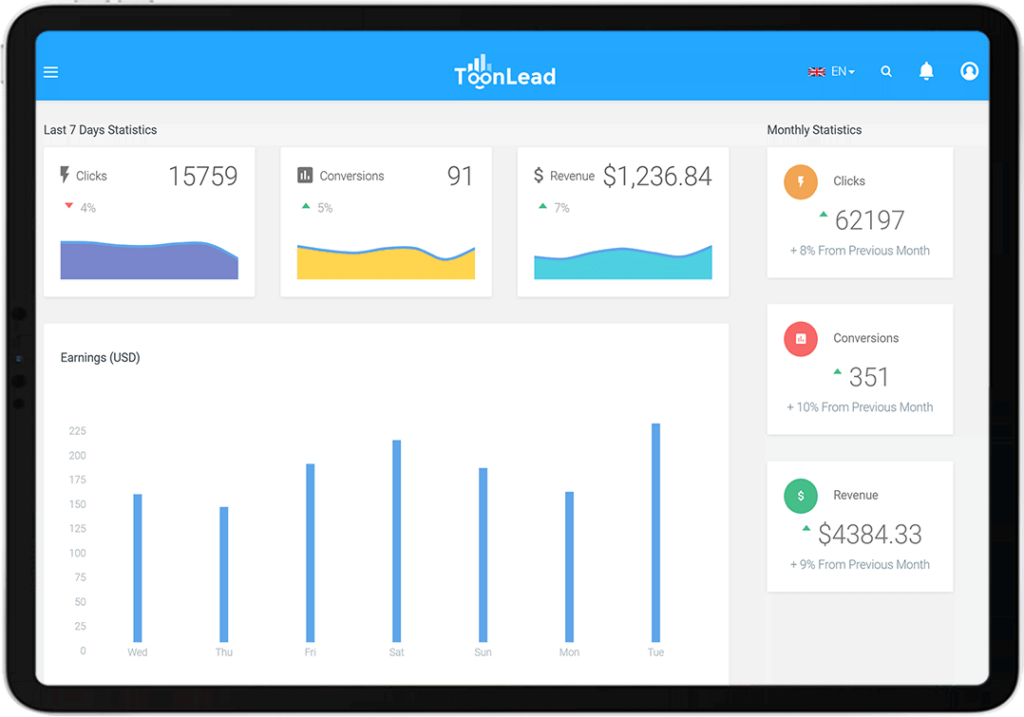 Increase your revenue with ToonLead!
One of the best and high-paying affiliate programs for you. Place ads with ease, track every sales detail, enjoy fast payouts.
ToonLead affiliate success formula
High Conversion Ratio
Professional ads and landing pages leave no chance for the visitor to remain cold.
Powerful Tracking Platform
Monitor the performance of all advertising tools from a single dashboard.
Ever-Growing Income
Joint efforts and cooperation bring you the greatest revenue rise.
Get 50% from everything – both initial and recurring sales!
Stop selling traffic extremely cheap, for mere cents. Try and earn money with the ToonLead revshare affiliate network. You get the fullest control over your income.
Profit will exceed your boldest dreams!
Latest ToonLead achievements
FAQ
Why should I become a ToonLead affiliate?
Hundreds of affiliates and industry professionals already use ToonLead as a profitable cartoon affiliate network for the adult audience. Exclusive offers with a high volume of conversions and a long-term recurring period will keep giving you high revenue for a long time.
How much do affiliate marketers make?
Since we pay per sale and recurring subscription for the same customer, the "customer lifetime value" for a lead is much higher than in other types of CPA affiliate networks.
Usually, the cost of an order is 39.95 USD. We share 50% with you, which means you get 19.98 USD. In the following month, the affiliate receives the same amount if the customer does not cancel. Thus, if the customer stays with us for 1 year, you will receive 19.98 x 12 = 240 USD just for one lead.
How do I get my revenue?
ToonLead pays twice a month. Our affiliates can choose to be paid via ACH, SEPA, Paxum, or Webmoney. Select the payment method that best suits your needs. Since not all methods may be equally available, feel free to contact us to run through your options, and to check for updates and new payment methods!